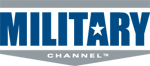 Go behind the lines! Bringing viewers compelling, real-world stories of heroism, military strategy, technological breakthroughs and turning points in history, Discovery Communications, Inc. transitioned its Discovery Wings Channel to the Military Channel on Monday, January 10, 2005. The network's revamped slate of series and specials is designed to take viewers "behind the lines" to tell personal stories and offer in-depth explorations of military technology, battlefield strategy, aviation and history.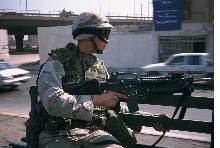 GUNNER PALACE, one of the year's most critically acclaimed contenders for year end documentary honors, reveals the complex realities of the situation in Iraq not seen on the nightly news. Premiering Thursday, October 27 at 8 PM (ET/PT), this special two-hour film presentation provides a thought-provoking portrait of a dangerous and chaotic war that is personal, highly emotional, disturbing and fascinating. (GUNNER PALACE will also air on Discovery Times on Sunday, November 27 at 8 PM ET/PT.)
Filmmaker Michael Tucker, who spent two months with 2/3 Field Artillery, a.k.a. "The Gunners," captures the lives and humanity of these soldiers whose barracks are the bombed-out pleasure palace of Uday Hussein (nicknamed Gunner Palace), situated in the heart of the most volatile section of Baghdad. With total access to all operations and activities, Tucker's insider footage provides a rare and unique look at the day-to-day lives of these soldiers on the ground. From white knuckle raids on suspected terrorists, roadside bombs, mortar attacks, RPGs and snipers, to downtime spent swimming in Uday's pool and playing golf on his putting green, GUNNER PALACE shows the many faces and facets of the war in Iraq through a multitude of human lenses.
"When I first went to Gunner Palace with the intention of making this film, all the soldiers asked is that I tell it like it is, so that people back home would know what their lives were really like," says Director/Producer Michael Tucker. "Months later, when I showed the soldiers the film they were pleased to see their request fulfilled. With that in mind, I can't think of a better place to debut this film on television than on the Military Channel." (www.gunnerpalace.com)
All times are ET/PT unless otherwise noted.
All programs are rated TV-PG unless otherwise noted.
The marking "(wt)" designates a working title and may be subject to change.
SPECIALS
FIRST COMMAND-TV PG (V)
World Premiere: Thursday, October 6, 8-11 PM

FIRST COMMAND showsviewers how a quintessential command experiencecan have a profound and lasting impact on afuture leader's career and how a greatcommander's character can be molded by an earlycombat decision. Interviews with historians,well-known military leaders, authors andveterans will be played against historicalfootage and compelling recreations.
Premiere
Thursday,October 6, 8PM
Patton, Puller, Franks
In this,episode, General George S. Patton Jr., General Lewis Chesty Puller and General Fred Franks will be profiled. Learn about their many contributions to our nations history.
Premiere
Thursday, October 6, 9 PM
Montgomery, Pershing, Custer
In this episode, viewers will learn about the great battles and brilliant strategies of Field Marshal Bernard Law Montgomery, General John J. Pershing and General George Armstrong Custer.
Premiere
Thursday, October 6, 10 PM
MacArthur, Marshall, Powell
In this episode, General Arthur MacArthur, General George Marshall and General Colin Powell are highlighted. Find out how each exemplified courage and leadership during wartime.
THUNDER IN THE DESERT- TV-PG
World Premiere:Thursday, October 13, 8 PM
Thunder in thedesert is a never-before-seen look at the innerworkings of the most amazing flight testfacility on earth"Edwards Air Force Base. Thisspecial includes interviews from pilots, expertsand historians, giving an insider's view of lifeon the base.
TOPTEN BOMBERS-TV-PG
World Premiere: Friday, October 14, 8 PM
How will the 100mph bombers of World War I compare to today'sstealthy space age designs? Will the mighty B52come out ahead of its ancestor the B-17 FlyingFortress? Our panel of strategic bombing expertswill examine British, German, Soviet andAmerican designs. Technological innovation,payload and above all combat performance in thegreatest aerial battles in history willdetermine their final choice. Through thisanalysis the full story of bomber operationsover the last 90 years will unfold"thetechnological advancements, the struggle toovercome increasingly sophisticated enemydefenses and the outstanding bravery of bombercrews.
MEDAL OF HONOR-TV-PG
World Premiere: Thursday, October 20, 8 & 9 PM
The Medal of Honoris the most distinguished military award in thehistory of the Armed Services. This four-partseries tells the stories of some of the men andwomen who have received this honor. Viewerswitness these Medal recipients' first personaccounts of their heroic actions, while learningabout the very conflicts and battlefields inwhich these moments of valor occur.
Premiere
Thursday, October 20, 8 PM
Corpsmen and Medics
This episode features corpsmen and medics who received the Medal of Honor in their service to their fallen and wounded corpsmen. Spanning from World War II to Korea and Vietnam, these men tell unbelievable stories of sacrifice and bravery.
Premiere
Thursday, October 20, 9 PM
World War II
More Medals of Honor were awarded for actions during World War II than any other war during the 20th century. In this episode, some of the 49 recipients who are still alive today tell their stories of bravery, courage and heroism.
ANATOMY OF ANABRAMS TANK- TV-PG
World Premiere: Friday, October 21, 8 PM
Whenthese rumbling armored vehicles were first usedin combat, they completely revolutionized theway wars were fought. Tanks combine potentfirepower, high performance, and brute force,facilitating rapid military response in allterrain. Join defense experts at GeneralDynamics' tank assembly facility in SterlingHeights, Michigan to examine the latest inarmored technology. In Twenty-Nine Palms,California, climb in the M1A2 Abrams and jointhe Marine Tank Corp for live fire exercises inan intense battlefield simulation.
REAL LIFE COMMANDOS-TVPG (L)
North AmericanPremiere: Sunday, October 23, 8 PM
Real LifeCommandos follows a 30-week training course forthe Royal Marine Commandos in Devon, England.Through rigorous training footage and interviewsof instructors & recruits, we see why it isconsidered the hardest basic training in theworld.
LEGENDS OF AIRPOWER: DAVID LEE "TEX" HILL
World Premiere: Monday, October 24, 8:30 PM
David Lee "Tex"Hill was recruited to the American VolunteerGroup, the group known as the Flying Tigers, in1941. Under the leadership of General ClaireChennault, Hill was one of the top aces in theunit. After the deactivation of the FlyingTigers, Hill went on to fight with the 23rdFighter Group, as well as the 75th FighterGroup. Throughout his career, he destroyed 18plus enemy aircraft, one of them being the firstZero shot down by a P-51. He continued to fightthrough the end of WWII and in 1946, he joinedthe Air National Guard as the youngest BrigadierGeneral in the service's history.
ONGOING SERIES
BATTLEFIELDS: WORLD WAR II
Weekdays at 6 PM
This series looks at the political and militarysituation prior to the battle, illustratesclearly and intelligently the component phasesand tactics, and summarizes the implications forboth victor and the defeated. Included areprofiles of the principal leaders andcommanders, in-depth analysis of the main weaponsystems, and assessments of the military forcesengaged.
WORLD'S DEADLIEST AIRCRAFT-TV-PG
Wednesdays at 8 PM
World's Deadliest AIRCRAFT covers the classicfighters, bombers, and choppers that won thebattles in the sky from WWII to the Gulf War.
North American Premiere
Wednesday, October 5,8 PM
A-10 Thunderbolt II
Designed to be a low flying tank destroying bomber, the A-10 also provides close support to ground troops in need of help. With a ceiling of 1000ft. and top speed of 420 mph, the A-10 is perfect for ground hugging daredevil missions.
North American Premiere
Wednesday, October 12, 8 PM
B-17 Flying Fortress
The B-17 was the first truly modern heavy bomber and one of the most recognized airplanes ever built. The Flying Fortress was the world's first aircraft to effectively serve as a long-range bomber during WWII, a feat that earned it a special place in aviation history.
North American Premiere
Wednesday, October 19, 8 PM
B-29 Superfortress
Designed as a replacement of the B-17 and B-24, the B-29 was considered the ultimate bomber of WWII and is best known as the aircraft that dropped the atomic bombs on Nagasaki and Hiroshima at the end of WWII.

North American Premiere
Wednesday, October 26, 8 PM
AH-1 Cobra
The AH-1 helicopter was originally designed in the 1960s to fly above small arms fire and deliver its ordinance. But upon arrival in Vietnam, the Cobra proved well equipped to serve as an armed reconnaissance and attack chopper.