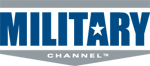 Go behind the lines! Bringing viewers compelling, real-world stories of heroism, military strategy, technological breakthroughs and turning points in history, Discovery Communications, Inc. transitioned its Discovery Wings Channel to the Military Channel on Monday, January 10, 2005. The network's revamped slate of series and specials is designed to take viewers "behind the lines" to tell personal stories and offer in-depth explorations of military technology, battlefield strategy, aviation and history.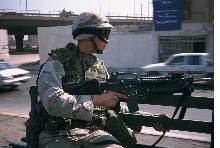 GUNNER PALACE, one of the year's most critically acclaimed contenders for year end documentary honors, reveals the complex realities of the situation in Iraq not seen on the nightly news. Premiering Thursday, October 27 at 8 PM (ET/PT), this special two-hour film presentation provides a thought-provoking portrait of a dangerous and chaotic war that is personal, highly emotional, disturbing and fascinating. (GUNNER PALACE will also air on Discovery Times on Sunday, November 27 at 8 PM ET/PT.)
Filmmaker Michael Tucker, who spent two months with 2/3 Field Artillery, a.k.a. "The Gunners," captures the lives and humanity of these soldiers whose barracks are the bombed-out pleasure palace of Uday Hussein (nicknamed Gunner Palace), situated in the heart of the most volatile section of Baghdad. With total access to all operations and activities, Tucker's insider footage provides a rare and unique look at the day-to-day lives of these soldiers on the ground. From white knuckle raids on suspected terrorists, roadside bombs, mortar attacks, RPGs and snipers, to downtime spent swimming in Uday's pool and playing golf on his putting green, GUNNER PALACE shows the many faces and facets of the war in Iraq through a multitude of human lenses.
"When I first went to Gunner Palace with the intention of making this film, all the soldiers asked is that I tell it like it is, so that people back home would know what their lives were really like," says Director/Producer Michael Tucker. "Months later, when I showed the soldiers the film they were pleased to see their request fulfilled. With that in mind, I can't think of a better place to debut this film on television than on the Military Channel." (www.gunnerpalace.com)
All times are ET/PT unless otherwise noted.
All programs are rated TV-PG unless otherwise noted.
The marking "(wt)" designates a working title and may be subject to change.
Stunts
VETERAN'S DAY SALUTE

VOICES OF THE GREAT WAR
World Premiere: Friday, November 11, 8 PM
VOICES OF THE GREAT WAR is a very human, very real and very moving exploration of a world at war. Far removed from sweeping and impersonal histories of the First World War, Max Arthur's best selling book hears directly from the fighting men and women. Through the words of a generation no longer with us, we can visualize the front line and re-live the endless artillery barrages, suicidal assaults across no-man's land and torpedo attacks on the high seas.
GOIN' BACK: KOREA- TV PG (V)
World Premiere: Friday, November 11, 10 PM
The third installment of Goin' Back takes a group of Korean War veterans back to the battlefields of "The Land of Morning Calm," where they fought as young men. Servicemen of all stripes are featured"from Privates and Generals to the history of the conflict is revealed from the hands-on memories of warriors from the Army, Navy, Marines and Air Force. The highly decorated cast features two Medal of Honor winners and a Korean-American doctor many believe should have won the Nobel Prize for his role in saving the lives of 100,000 of his countrymen when they were refugees from the Chinese Communists.
Specials
BIG RED ONE: BEHIND THE GAME (wt)- TV PG (V)
World Premiere: Tuesday, November 1, 9 PM
Get the behind-the-scenes look at the making of the new video game "Call of Duty2: Big Red One," combined with a historical overview of the 'The Big Red One'"the 1st Infantry Division during World War II. THE BIG RED ONE was the first to reach England and fight the enemy in Africa and Sicily, the first on the beaches of Normandy on D-Day, and the first to capture the major German city of Aachen.
OPERATION SEA DRAGON- TV PG
World Premiere: Thursday, November 3, 8 PM
The Northern Persian Gulf…40 miles from the Iraqi coast. A US Navy Carrier Strike Group is on full combat alert. On the flight deck of the Carrier USS Carl Vinson, jet turbines roar to life, and F18s scream north into Iraq. In the darkened air bridge of the US Cruiser Antietam, every blip on the glowing computer screens represents potential danger. Land-based missiles in Iran are 45 seconds away. Every small boat is a bomb threat. This is Operation Sea Dragon"an enormous international naval coalition waging a dramatic 24/7 war on terror in the most economically important and most dangerous body of water in the world.
TOP TEN FIGHTING SHIPS- TV PG
World Premiere: Friday, November 4, 8 PM
Our experts examine British, American, German and Swedish designed fighting ships comparing their firepower, armor, speed and operational success. Only one of the ten selected designs can earn the title of the ultimate Fighting Ship. As each warship comes under scrutiny, the dramatic story of war at sea in the 20th century emerges"ships with batteries of huge guns that can fire one ton shells at targets 14 miles away and nuclear powered floating cities that carry as many aircraft as some nations' entire air forces and humble 'tin can' escort vessels.
IRAQ: FRONTLINE ER- TV PG
Network Premiere: Monday, November 7, 10 PM
IRAQ: FRONTLINE ER takes viewers to the rarely seen world of a war-zone hospital. Follow Balat's medical team 24/7 as they respond to emergencies, make critical decisions and improve solutions to complex medical challenges in the heat of battle.
TOP TEN INFANTRY FIGHTING VEHICLES- TV PG
World Premiere: Friday, November 18, 8 PM
Join our experts as they look at American, British, Soviet, Canadian and Israeli designed infantry fighting vehicles. Innovation, protection, mobility and overall battlefield performance determine the place each machine occupies in the final Top Ten list. As we select the ultimate infantry-fighting vehicle, the story of the struggle to protect the vulnerable infantryman and the theories behind rival designs emerge. Wheels versus tracks, heavy firepower versus the simple 'battle taxi' Top Ten Infantry Fighting Vehicles reveal the competing theories behind these vital machines.
Ongoing Series
WORLD'S DEADLIEST AIRCRAFT- TV PG
Wednesdays at 8 PM
North America Premiere
Wednesday, November 2, 8 PM
AH-64 Apache
Gaining wide public recognition during the first Gulf War and the most recent conflict in Iraq, the Apache represents the ultimate in combat helicopters in terms of speed and capacity of ordinance.
North America Premiere
Wednesday, November 9, 8 PM
AC-130 Spectre
The AC-130's primary mission was night attacks against ground targets and armed reconnaissance. With a combat history dating back to the Vietnam War, they destroyed more than 10,000 trucks and were credited with many life-saving, close air-support missions.
North American Premiere
Wednesday, November 16, 8 PM
P-47 Thunderbolt
Originally conceived as a lightweight fighter, the P-47 ended up as the heaviest single-engine fighter flown by the Army Air Forces. The P-47 was used as both a high-altitude escort fighter and a low-level fighter-bomber.