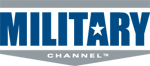 Go behind the lines! Bringing viewers compelling, real-world stories of heroism, military strategy, technological breakthroughs and turning points in history, Discovery Communications, Inc. transitioned its Discovery Wings Channel to the Military Channel on Monday, January 10, 2005. The network's revamped slate of series and specials is designed to take viewers "behind the lines" to tell personal stories and offer in-depth explorations of military technology, battlefield strategy, aviation and history.
PROGRAMMING HIGHLIGHTS DECEMBER 2005
All times are ET/PT unless otherwise noted.
All programs are rated TV-PG unless otherwise noted.
ARMY-NAVY WEEK

Monday, November 28 – Monday, December 3
Celebrate the road to the annual Army/Navy game with five nights of programming on these two most renowned US armed services. During this week, 8 pm (ET/PT) will be dedicated to Army programming and 9 pm (ET/PT) will be dedicated to Navy programming. The week will conclude on Saturday, December 3, at 12:30 PM (ET) with a LIVE event at the Army/Navy football game.  
LIVE FROM ARMY/NAVY- TV PG
Saturday, December 3, 12:30 PM
Join LIVE FROM ARMY/NAVY in the hours leading up to the 106th playing of the Army/Navy football game. For two hours we will explore the history of this epic competition, profiling the players who have both played the game and fought for our country.

SPECIALS

Anatomy of a Stryker – TV PG
World Premiere:  Friday, December 16, 8 PM
The Stryker is a 19-ton, eight-wheeled, infantry carrier filled with state-of-the-art combat systems. The Stryker can be deployed by a C-130 or C-17 aircraft, and be combat-capable upon arrival in any contingency area. It has robust armor protection and can sustain speeds of 60 miles-per-hour. Designed to bridge the gap between The Army's light and heavy forces, the Stryker fulfills an immediate requirement to equip a strategically and tactically deployable brigade, capable of rapid movement worldwide. Anatomy of a Stryker reveals the impressive technology and revolutionary capabilities of this armored vehicle, as well as the elite soldiers who are tasked with operating them.
10th Mountain Division – TV PG
World Premiere:  Sunday, December 11, 8 PM
This special goes into the field with the storied 10th Mountain Division to show how they operate in Afghanistan and Iraq and how they live and train at their headquarters in Fort Drum, New York.
       
Goin' Back: Vietnam – TV PG
World Premiere:  Monday, December 19, 10 PM
Goin' Back: Vietnam takes particular notice of the unique character of the Vietnam War and its long-lasting effects on its veterans. This tour hits all the most famous locations of the war, starting with both Hanoi and Saigon (now known as Ho Chi Minh City), and visiting the battlefields at Hue (including the Forbidden City), DaNang, Hoa Lo Prison (The "Hanoi Hilton"), China Beach, Quang Tri, Vinh Moc (with a rarely seen Viet Cong Tunnel Complex), the Razorback, the Rockpile, Hamburger Hill, and more.   Locations will be determined in part by our veterans' need to re-visit specific sites of trauma, loss, and victory.  
Escape to the Legion – TV PG
North American Premiere:  Sunday, December 18, 7 – 11 PM
Traditionally the Foreign Legion has been a place for men to escape a past they'd rather forget. Adventurer and explorer Bear Grylls rounds up a diverse band of eleven men who have realized they need to change, and all are looking for redemption and personal transformation in the harsh and brutal life of the world's most romantic and mysterious army.  For four weeks from a fort in the blistering Sahara desert three fearsomely tough ex-legionnaires with over 30 years experience between them, push our recruits to their limits. For the ex-legionnaires pain is simply weakness leaving the body and over the course of the four weeks our recruits discover just what that means.
ONGOING SERIES
WORLD'S DEADLIEST AIRCRAFT- TV PG
Wednesdays at 8 PM
North America Premiere
Wednesday, December 14, 8 PM
F6F Hellcat
Building on the tradition of the F4F Wildcat, the tough, Grumman-built naval fighter was designed to counter Japan's lightweight Zero. The Hellcat would be credited with turning the tide of the war in the Pacific.
North America Premiere
Wednesday, December 21, 8 PM
TBF Avenger
Flying from aircraft carriers and land bases, Avengers became the standard Navy torpedo bombers of WWII. With a fat fuselage and rectangular surfaces, the BF was rather ugly, but it was sturdy and reliable aircraft of advanced concept.