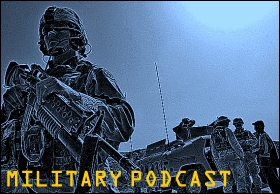 What is a Podcast?
A podcast is audio you can download and listen to with a digital audio player. Podcasting is a way of publishing audio files to the Internet, allowing users to download files to their audio player. The name "podcasting" is derived from two words – Apple's "iPod" and "broadcasting." Although Apple's iPod is today's industry standard, other digital audio players can also play podcasts, as well as computers with the appropriate software.
Although podcasting is a relatively new trend, there are already a large number of podcasts available on the Net. Some podcasts are commercially produced, while many others are self-produced. The advantage of podcasts is that you can listen to content whenever and wherever you want. Currently, there are few military-related podcasts available. Hopefully, as the trend grows, more will become available. Military-related podcasts are listed to the right.
We will be happy to list, and even host, military-related podcasts. Please contact us for more information.
Podcast-related links:
– Apple iTunes
– Apple Store
– Audible.com
Military Podcasts
Army Wife Network
Internet talk radio show for and about military spouses.
Finmeccanica Inc. Podcast
Defense, aerospace, homeland security and transportation technology and products.
Military History Podcast
Bringing you the strangest anecdotes, innovative technology, and most significant events of military history.
Real Warriors
Real Warriors, Real Advice is a weekly podcast series in which warriors, veterans and military families highlight the importance of seeking care for invisible wounds and offer tools and tips on building and maintaining psychological resilience.
Talking With Heroes
Supporting our troops! TalkingWithHeroes.com
U.S. Air Force Podcast
Radio news from the USAF
United States Army Podcast
Army Podcasts
U.S. Navy Podcast
Podcasts from the U.S. Navy
USMilitaryHistory.com
U.S. Armed Forces stories
Suggest a Podcast
List your military-related podcast here!